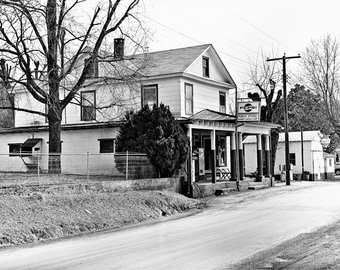 Grounded LLC applied for a grant in conjunction with the Friends of Esmont in support of its project to develop a Comprehensive Development Master Plan for a proposed Esmont-Alberene Quarry Rail Trail. The 5.5-mile path will follow the discontinued Alberene-Nelson Railroad bed to link the main street of Esmont, Virginia with the abandoned Alberene Quarry. Friends of Esmont will carry out GIS mapping, topographic analysis, historic and rail line research, website development and a program of public outreach to produce a final Comprehensive Development Master Plan document, engagement website, and a Plan of Action for the implementation of the Esmont-Alberene Quarry Rail Trail.
The Village of Esmont suffered economic decline and an increasingly disconnected community after all commercial properties closed during the shutdown of the local quarry and railroad 60-years ago. An empty rail bed runs parallel to the main street before heading north past historic sites, ultimately arriving at the Alberene Quarry, a favorite swimming destination for locals.
While Esmont is an area of extreme natural beauty and historic merit, large tracts remain under private ownership and the country roads prove unsafe for walking and biking. The community sees the reuse of the rail line to a trail system as an economic and social driver to draw locals and visitors to the Village of Esmont and to discover this forgotten area of Albemarle County.