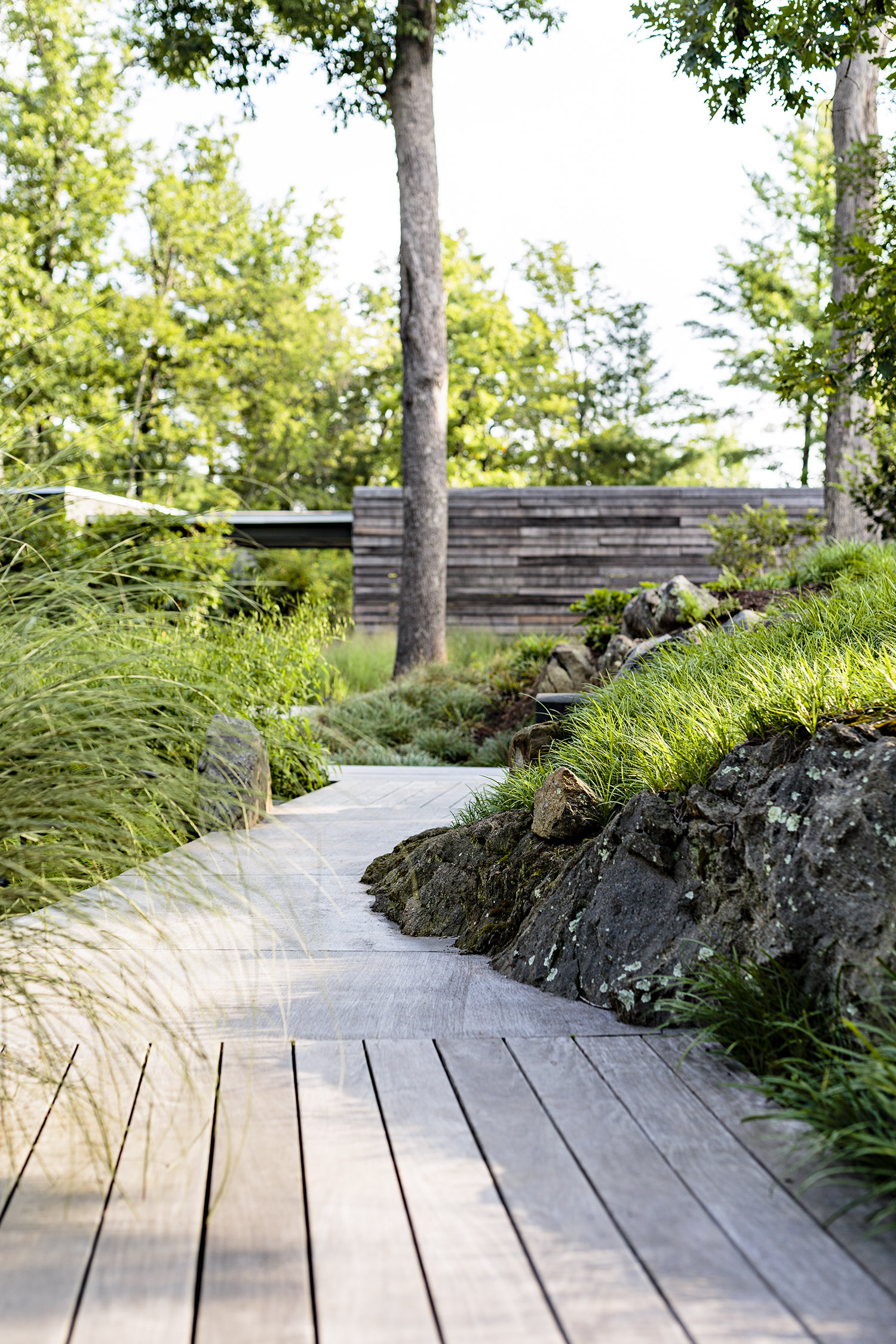 TURKEY SADDLE - FREE UNION, VIRGINIA
Set between the Meechum's and the Moorman's Rivers, Turkey Saddle derives its name from the extraordinary site. Bridges and rock outcroppings are repeated themes that appear in various iterations-- natural and man-made. A deck pathway twists between existing trees, negotiates challenging topography, and connects a new garage, apartment and workshop wing to the existing home. On a slope below, linear decks span outdoor spaces and allow the owners to enjoy their hillside home.
A series of spaces provide different ways to experience the site. The first space, an intimate viewing deck, cantilevers over an existing rock outcropping. Thinned under-story trees focus views to the river below from this vantage point. The second area, an entertaining courtyard at the center of the house, looks out at a meadow and mountain laurel beyond, framed by a glass bridge above. A third children's terrace contains carefully-placed rocks intended to be climbed and lounged upon like outdoor furniture. The children's courtyard also contains a playful waterfall that captures rainwater as it falls from the hillside to the river below as well as an outdoor shower to rinse the toddlers off after a day of fun. The artful playground is designed with a level of sophistication that will endure and provide enjoyment for the family long after the kids have grown. A large boulder sits at the walkway's terminus, a mirror to the cantilevered rock deck where it began.
This project was completed in Fall 2013. It is featured in the April 2014 Indoor/ Outdoor issue of Dwell magazine, as well as Dwell's 2015 Design Guide of Definitive Architects and Designers Worldwide. Turkey Saddle has also been included in Abode Magazine, Ikea and HGTV's online design blogs.
Architecture: Formwork
General Contractor: Ace Contracting, Inc.
Concrete: Monarch Concrete
Landscape Contractor: JW Townsend, Inc.